Upcoming Events:

| | | |
| --- | --- | --- |
| | Conservatory Classes Begin | |
Features:

Cathy Roe Dance Competition
The weekend of May 10, 2019, the CEA and Conservatory dancers participated in the Cathy Roe Ultimate Dance Competition and came home with incredible results!
Conchita Espinosa Academy and Conservatory of the Arts received an ADCC Award for School of Excellence, showing quality dance and dance training. In addition, Ms. Danella Bedford received the choreography award for Breath of the Wild.
Out of the entire competition, we won three places out of the Top 10 with the following choreographies by Ms. Danella Bedford:
SAUDADE - 1st place
TICKING DOWN - 3rd place
MARY POPPINS - 5th place
In addition, we below is a list of the awards for the solos and group pieces... See Pictures >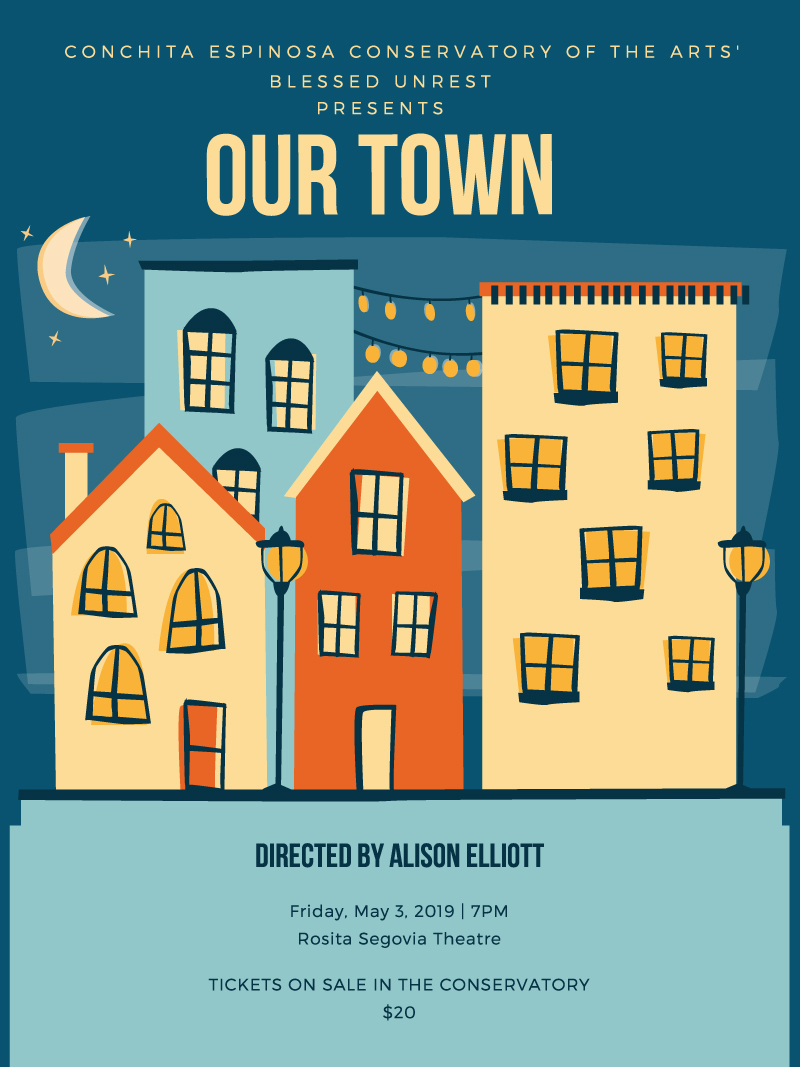 Conchita Espinosa Theatre Department's Blessed Unrest presents: Our Town
Our Town Our Town, by Thornton Wilder, directed by Alison Elliott, and featuring the Conservatory's Blessed Unrest Theatre Ensemble was a beautiful story about gratitude for the present moment. In this era of technology, where we often do not even take the time to notice one another, the themes were more relevant than ever. Having a glimpse of life 100 years ago and realizing that families faced many of the same issues we continue to face today definitely provided plenty of food for thought and conversation. Blessed Unrest did two performances, one for families and another for the 6th, 7th, and 8th grades. They did a magnificent job!
Professional Pictures of the performance are available for purchase at https://photobyluis.photoreflect.com/store/EventLogin.aspx?e=10423303
Spring Music Concerts
The 2019 Spring Music Concert Series was better than ever! We are so grateful to our amazing faculty, students, and parents. The work presented on the stage of the Rosita Segovia Theatre each day for two weeks, was the culmination of the many lessons learned throughout the year, and throughout the years of musical training each student has had. They are learning to master their instrument and daring to try new ones, taking risks, practicing adaptability, flexibility, courage, discipline, teamwork, patience, resilience, expression, and awareness of themselves and those around them. Thank you to all who made it possible, our amazing faculty, administration and staff, the students who gave their hearts onstage, and their incredible families for supporting them.
Professional Pictures of each performance are available for purchase at https://photobyluis.photoreflect.com/store/EventLogin.aspx?e=10423303
Spring Art Show
This April we kicked off the spring season with the most spectacular art show yet! The show featured pieces by both Art Masteries, Conservatory Art students, and close to 700 sculptures by students in all CEA grades! Thank you to Mrs. Vazquez for her amazing work, and to Mrs. Castillo, Mrs. Martinez and all the parents who volunteered setting up and in the show!
Conservatory Spring Concert
The Conservatory Spring Concert celebrated the talent and preparation of our young artists. This year the Spring Concert showcased some of our most advanced dancers, singers, and musicians. Thank you to our fantastic faculty and students, for making each Spring Concert even better than the last!
---
Educational
Travel
---

Monthly
Newsletter
---
Master
Classes
---