Upcoming Events:

Conservatory Music Exams

The Conservatory Music Exam will now take place for ALL Conservatory music students from April 1 to April 11, 2019.

Exams for Pre-A and Pre-B levels will take place during students' regular class time. All students in Level I and above will take their exam in the presence of a jury. The student's final grade depends on both the class grade reflected in their notebook and the jury's evaluation on the day of the exam. The exam will take the place of the student's regular music on that week. Parents are welcome to attend.

Your child will be advised of his or her exam schedule. Exams should not interfere with any other Conservatory classes during this week. However, should there be a scheduling conflict, please advise the Conservatory office in order to make arrangements. To access the schedule of exams, please click here.
Spring Concert

The Conservatory Spring Concert celebrates the talent and preparation of our young artists. This year the Spring Concert will showcase some of our most advanced dancers, singers, and musicians.

Friday, April 12 at 7:00 p.m.
Saturday, April 13 at 5:00 p.m.
Tickets: $20
On Sale at the Conservatory Office!

The groups performing are:

Contemporary
Junior Lyrical
Senior Lyrical
Junior and Senior Dance Mastery
Intermediate IIIA and Advanced Ballet
8th Grade Theatre Mastery
Malaga I and II Spanish Dance
Advanced Spanish Dance
Junior and Senior Voice Mastery
Senior Music Mastery
Select Conservatory Music Students
Conchita Espinosa Theatre Department's Blessed Unrest presents: Our Town
"Do human beings ever realize life while they live it?" A story about gratitude for the present moment told through the eyes of the citizens of Grover's Corners, New Hampshire.

May 3rd - 7:00 p.m.
May 4th - 5:00 p.m.

Cast

Lilianne Iglesias
Haley Majors
Lisset Iglesias
Nathan Canino
Daniel Avella
Arianna Martinez
Alessandra Acosta
Orfa Baez
Angeline Medina
Mia Suarez
Taylor Iglesias
Stage Manager
Mrs. Stoddard
Emily Webb
George Gibbs
Doc Gibbs
Mrs. Gibbs
Mrs. Webb
Mr. Webb/Simon Stimson
Mrs. Soames
Sami Craig
Rebecca Gibbs

Directed by Alison Elliott

Tickets: $20
On Sale at the Conservatory Office




The Theatre Department
Playmakers present:


The Little Prince

Directed by Alison Elliott

Thursday, May 9th 5:30 p.m.

(immediately following
their theatre class)
Spring Music Concerts

We are enjoying an amazing and exciting year in our Music Department, and are rejoicing in the development of our very talented musicians.  It is with much pleasure and pride that we invite you to our concert series . . . MUSIC IN THE AFTERNOONS from 5:00 p.m. to 6:30 p.m.

Following are the dates for your child's concert:

Monday, May 6
Marlene Urbay, Ibette Fernandez, Wendy Ocando

Tuesday, May 7
Mirta de la Torre, Teresita de Leon

Wednesday May, 8
Yoanna Hernandez, Raymat, Ruben Jimenez

Monday, May 13
Lizette Ledon, Rey Guerra, Alina Gonzalez

Tuesday, May 14
Ileana Cortizo, JA Guibert, Conrado Garcia

Wednesday, May 15
Yirka Ledon, Tania Nunez, Norman Milanes, Alejandro Sierra

Thursday, May 16
Anaida Carquez, Natalie Avila, Edgar Sanfeliz

Ticket sale order forms will be sent home in April.

Click here for more details
Features:

Conchita Espinosa Dance in Spain

From March 13 through March 23, for 10 days, CEA dancers experienced the CEA Cultural Immersion Trip to Spain. They spent time getting to know the culture and growing in their love and knowledge of dance in Madrid, Seville, Toledo and Cordoba. In addition to taking class at the most prestigious and recognized conservatories and dance schools in the country, they watched professional dance rehearsals at the Alicia Alonso Institute and Ballet Nacional de España, watched performances, and immersed themselves in the history and culture of Spain. Read more >
This was an incredible and enriching experience for our young dancers! To learn more about the CEA Educational Travel Programs, click here.

Miami-Dade Youth Fair Competition Results

Each year, Conservatory students participate in the Miami-Dade County Youth Fair Music Competitions. We are very proud of our young musicians and the work they and their wonderful teachers are doing!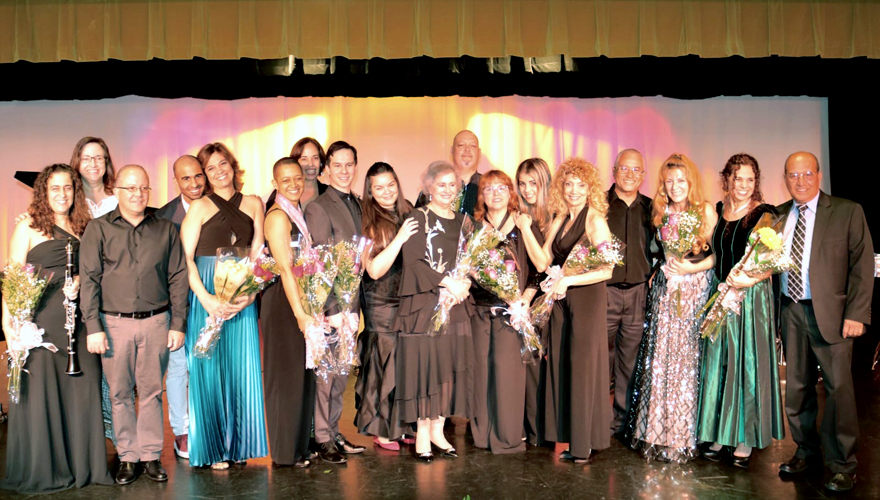 On Saturday, February 23, 2019, Conchita Espinosa Academy and Conservatory of the Arts came together to honor our founder, Conchita Espinosa, on what would have been her 105th birthday.
There was truly no better way to celebrate Conchita's legacy than through music. We are eternally grateful to our incredibly talented and generous music faculty for so lovingly proposing the Conchita Day Concert and coming together to give our community the gift of music. It is unbelievable that together we house the number and calibre of professional musicians and extraordinary individuals who make up our music department.
Thank you.
YOU ARE Conchita's legacy.
YOU ARE the example we trust our students will live up to - examples of trust, generosity, collaboration and love, and this evening was one to remember forever.

BRAVO!
Universal Ballet Competition
Congratulations to the lovely dancers who participated in the Universal Ballet Competition in February!
Group Pieces
Ticking Down - UBC Platinum and 1st place in their age group and level
Pirogov Suite - High Gold and 1st place in their age group and level
Solos
Emily Aparicio - UBC Platinum (contemporary) and 6th place overall in her age group and level
Sofia Croes - High Gold (ballet) and 3rd place overall in her age group and level
Amanda Vega-Pernia - Gold (ballet and contemporary)
Maggie Mesa - High Silver (ballet) and High Gold (contemporary)
Catalina Vigil - High Silver (ballet)
Congratulations to all who participated and to Danella Bedford and Kenia Garcia Cabrera for their love, dedication, and leadership!
Doña Francisquita at FIU,
featuring Segovia Ballet Español

The FIU School of Music is has brought back the tradition of Zarzuela to Miami! Through a collaboration highlighting the talent of FIU Opera Theater students and dancers from Conchita Espinosa Conservatory of the Arts´Segovia Ballet Español, this was the first-ever full production of a Zarzuela at Florida International University.

Under the direction of vocal professor Robert B. Dundas and choreography by Marisol Moreno, the audience followed the charming story of Doña Francisquita, a comedy based on the story of two young lovers, Francisquita and Fernando, during Carnival season in Madrid. Songs and dialogue in Spanish with English supertitles. Accompanied by the FIU Symphony Orchestra and conducted by Javier Jose Mendoza.
Christmas in the Gardens
Enjoy a magical holiday evening of music and dance at the beautiful Banyan Bowl at Pinecrest Gardens featuring young artists from Conchita Espinosa Conservatory of the Arts. Christmas in the Gardens is a holiday spectacular that will include featuring cherished Christmas carols, a trip around the world with Navidades Flamencas, and The Snowman, an original story ballet that brings to life the beloved English story.

See & Purchase Pictures >
Hispanidad 2018
On Saturday, November 3rd, the Conservatory celebrated Hispanidad 2018. This year's annual Hispanic Heritage performance, directed by Spanish dance department head Marisol Moreno, represented exactly what Conchita is about. The spirit of collaboration and mutual respect among our teachers and students was evident in the performance. Hispanidad 2018 was a collaboration among the Spanish dance, Music, Voice and Theatre departments, with every teacher involved bringing his or her style to the table, coming together to create an impressive evening of music and dance, performed exclusively with live music. Our sincerest gratitude and respect goes out to Marisol, and to all the teachers involved: Leiza Mendez and Cristina Masdueño (Spanish dance), Anaida Carquez and Edgar Sanfeliz (voice), Norman Milanes (clarinet), Jose A. Guibert (violin) and Alison Elliott (theatre). A most special thank you to our guest artists, Conservatory piano teacher Ileana Cortizo, who accompanied our dancers and musicians, as well as Walter Castro (cajón and cantaor) and Jesus "Sivi" Rodriguez (guitar).
A group of performers shared the holiday spirit with the elderly community at Harmony Health Center Miami.
They did a beautiful job sharing their talent and opening their hearts to those in need. They handed out tons of gifts from the Conservatory Re-Gifting Drive and then spent the afternoon chatting and playing games with the members of the Harmony community. Thank you to Maria Ofelia Armas for inspiring our students to share their gifts and open their hearts. The true meaning of Christmas is to give to those in need, and the best gift we can give is our time, our ears to listen, and our hearts to love. Thank you to all who attended and to our amazing Conservatory moms for their help and support!
Leonel Morales Concert at Master Class at CEC
On October 1, 2018 we were honored to welcome renowned pianist, Leonel Morales (www.leonelmorales.com) to the Conchita Espinosa Conservatory of the Arts. He gave an incredible concert in honor of Hispanic Heritage, honoring some of the great composers from Cuba and Spain, including Albeniz, Soler, Cervantes and Lecuona. It was an emotional evening due to the relationship Mr. Morales has had with the Conservatory Music Faculty for so many years. He grew up and studied with many of our faculty members and it had been over 30 years since he had seen many of them. The mutual connection, love and respect witnessed that evening was an inspiration to everyone in the audience.
On Tuesday, October 2, five of our piano students had the opportunity to perform for him and participate in a special master class geared toward our Conservatory music teachers. Congratulations to Christopher Cuesta, Amira Avellan, Gabriella Barcia, Kassandra Labiada and Mateo Oliva for a job well done. They all played beautifully and took great advantage of the opportunity to learn from this master teacher. Felipe Diez, clarinet student at CEC, also had the opportunity to perform for Mr. Morales and did a wonderful job! We are so proud of our music students and teachers, for the great work they are doing!
---
Educational
Travel
---

Monthly
Newsletter
---
Master
Classes
---