Fernanda Miranda in Carnegie Hall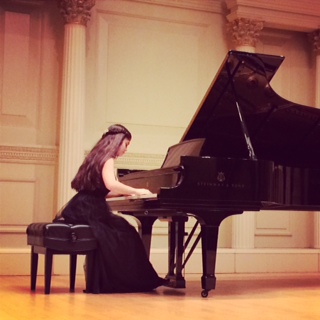 Fernanda Miranda (8th grade) was one of the winners of the American Fine Arts Festival Competition in the Romantic music category. As a winner, she has been chosen to play in the Winner's Concert in Carnegie Hall in New York City on December 14, 2014.
Fernanda began studying piano at CEC 8 years ago with Marisol Caballero and then with Alina Gonzalez. Her progress has been extraordinary. She is a part of the CEA Music Mastery, under the direction of Ms. Yirka Ledon and Ms. Ibette Fernandez.In the recent years she has had the opportunity to study music in Austria and at the Manhattan School of Music, where she has continued her studies this school year in addition to her work at Conchita. www.afafestival.org

Congratulations Fernanda! We are so proud of your accomplishments as a musician and as a member of our CEC Community!
See Video about Fernanda on Globo.tv